Situated on the Brayford Wharf in Lincoln, the Electric is a trendy bar & restaurant on the 5th floor of the DoubleTree by Hilton hotel.
Being fairly active on social media, I'd seen that the recently opened Electric Bar & Restaurant on the Brayford Wharf was holding a competition to win 50 'express lunch' meals worth £12.95. You could also take a +1 so there were 100 meals up for grabs in total! I duly entered and was grateful to have been a winner!
Due to the popularity of the competition, I understandably had to book which was a fairly simple process and the staff were flexible as regards the date and time that I could book for.
Rather conveniently, there is a lift just inside the entrance to the DoubleTree which goes directly to the 5th floor where the Electric is situated. Upon entry, my coat was taken and kindly placed on a hanger for in a coat-cupboard. I was then taken through to the main dining area which had windows all around the edge overlooking Lincoln and the Cathedral.
Here are the three courses that I ordered from the set menu and a pic for each!
Starter: 'Soup of the Day' (Served with Homemade Bread) – this happened to be a Tomato Soup on the day.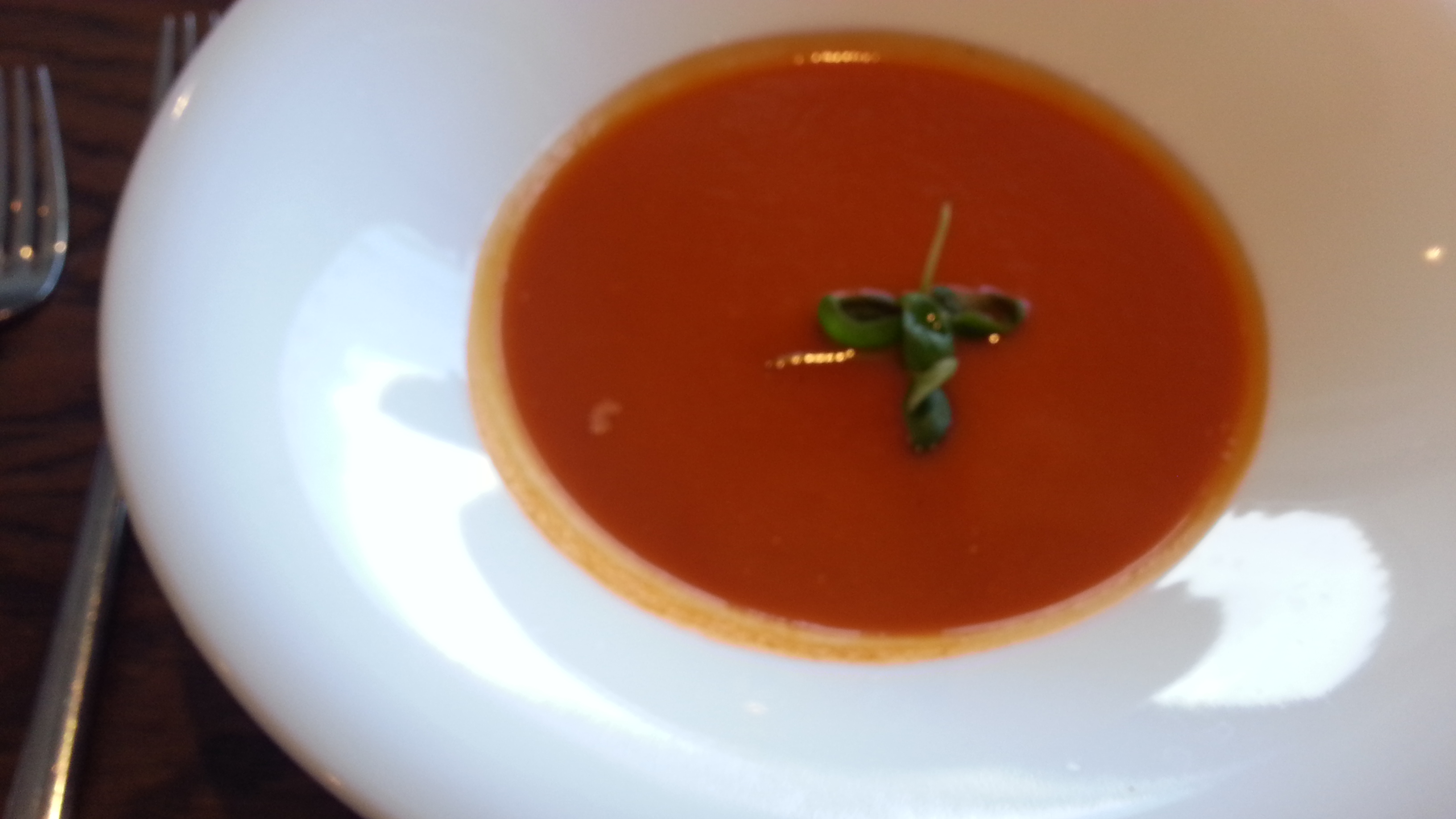 When I ordered a tomato soup, I wasn't expecting much as regards taste, however I was rather surprised at the flavours! You could tell that it was homemade.
Although not in the photo, this was served with a selection of small handmade 'artisan' style breads of different doughs.
Main: 'Posh Fish & Chips' (Beer Battered Haddock, Triple Cooked Chips, Garden Pea Puree, Tartar Sauce)
This was what I was looking forward to tasting. I would even go as far to say the fish was of a higher standard than the freshly caught fish & chips you would eat at the seaside. It tasted very nice, and when you pulled it apart it flaked cleanly. The batter wasn't at all soggy, and had been cooked well so that it was crispy and you could hear a slight crunch when you cut into the fish.
The chips were not dripping with oil which would have put me off. They were also seasoned with a pinch of salt, and served in a 'chip pan' style container (although they of course weren't fried in this) which was an excellent finishing touch.
Dessert: 'Sticky Toffee Pudding' (Toffee Sauce, Double Cream Ice Cream)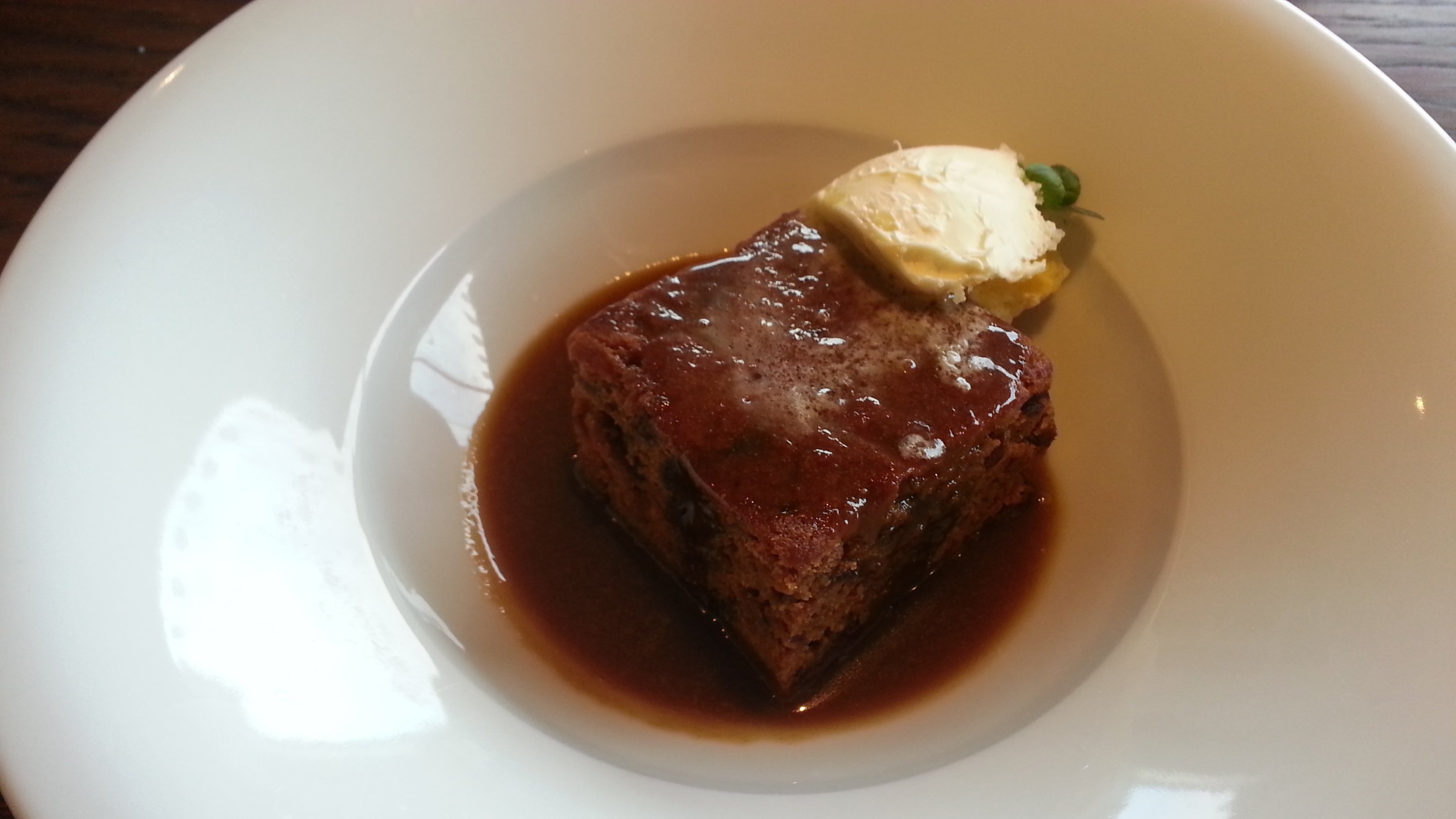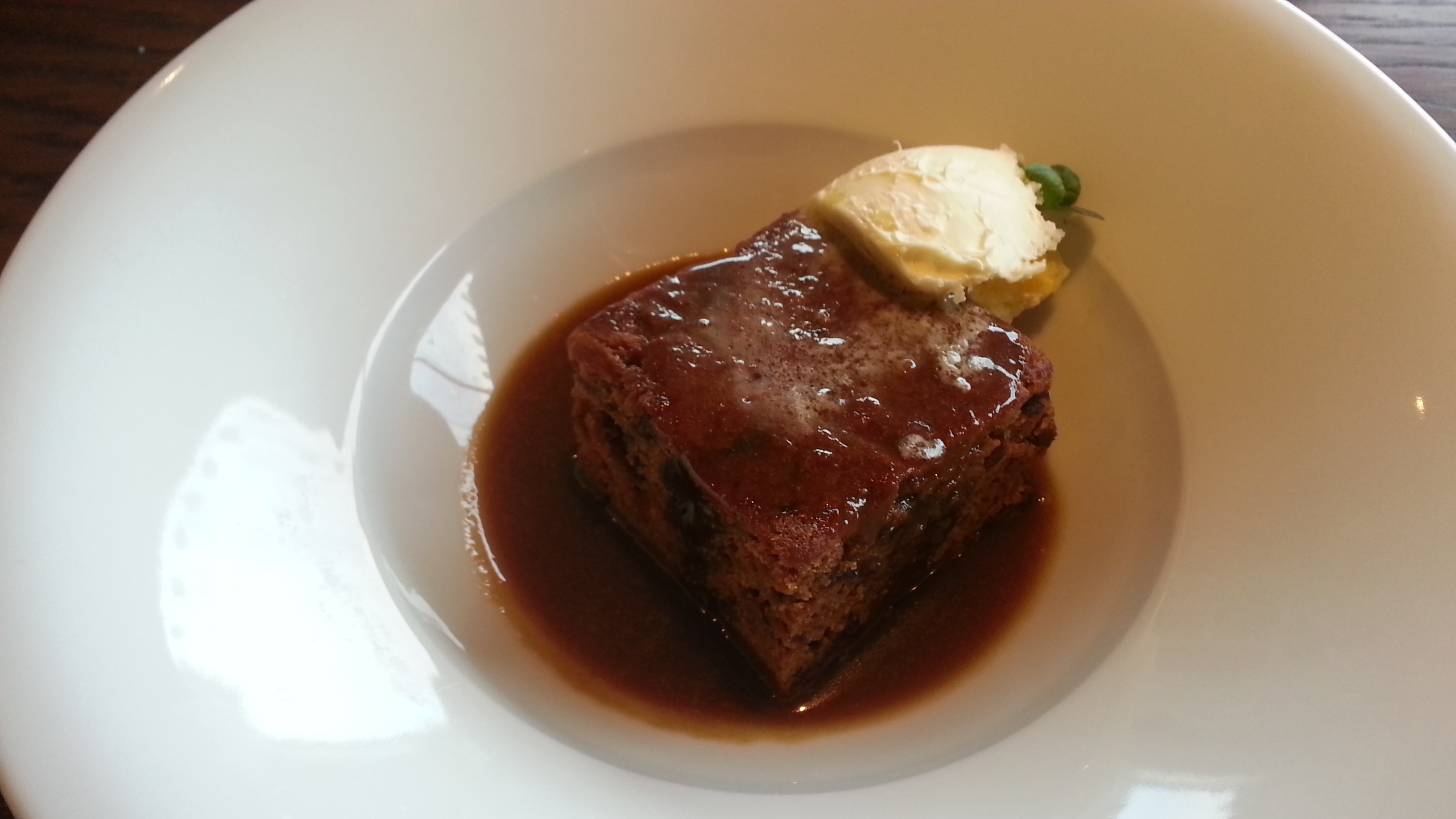 Being one of my favourite desserts, I had an idea in mind of what it should taste like, and it didn't disappoint! The pudding itself was filled with raisins and spices so had plenty of flavour, and the toffee sauce was just right. I've never been a fan of clotted cream so I left that!
For an 'express lunch' menu, this left me completely full and I even had to leave a little of my sticky toffee pudding. There seemed to be no compromise – quality and a good quantity of food also!
Here are my ratings:
Food: 9/10
Service: 9/10
Staff: 9/10
Overall, whilst the food may not be the cheapest in the area, you do get value for money and can leave with a full stomach. The quality, presentation and taste of food was superb, and the staff were also very friendly and seemed to have a great work ethic. Rather than some places, the staff here seemed to genuinely care when they asked how your meal was and if there were any problems.
I would certainly eat there again and recommend to others in the local area looking for somewhere to eat out.
It's worth mentioning that they do also have special offers on different days of the week such as Cocktail Club, After Work Social, Jazz Wednesdays, they do a roast on Sundays, and have a £25 set meal every evening.
You can find the Electric on Twitter (@electriclinc), Facebook (https://www.facebook.com/ElectricLinc), and their website is Electric Bar & Restaurant.