If you're a user of Google's AdWords (PPC) platform, you'll likely be familiar with the selection of ad extensions available to choose from. However, you might not have seen the newer extensions which offer more features to make your Ads even more engaging!
Before I jump in though, it's worth reminding ourselves the benefits of using ad extensions:
Increased visibility

Ad extensions generally increase the size of your Ad, giving you a bigger presence and increasing CTR

Higher visitor relevance

By including more information about your product or service, you're giving potential visitors more insight before clicking the Ad (and costing you a click!)

No additional cost

For any extensions that provide alternative methods of interaction (such as call or message extensions), you'll just pay the price of a click if they click Call.
Sitelinks extensions

Let's say you're an eCommerce site running an AdWords campaign with an Ad Group broadly targeting "blinds". As well as talking about the different types of blinds, you could also add sitelinks for Roller Blinds, Roman Blinds, Vertical Blinds and Blackout Blinds.
While it's fairly safe to assume visitors will be aware you sell all the above types of blinds, it's more about making the whole experience as frictionless as possible. By letting them click straight through to the category they're interested in directly from the Google SERP, you're saving them having to navigate through your website menu.
Call-out extensions

Think of these as USPs. If you're an eCommerce store, you might want to set some general account-level call-outs as:
Free UK Delivery
7 Day Returns
Gift Wrapping Available
24/7 Customer Support
Price Match Guarantee
etc
It's also best practice to create more targeted call-outs at campaign, or even ad group level to override those generic ones you added at account level. Especially if you're selling many types of product.
Structured snippet extensions
Structured snippets are a way for us to provide a list of terms which will be comma separated. In the example above, I did a search for "blinds". To ensure I'm aware of all the different types of blinds they stock, Hillarys have used a structured snippet.
Google gives us a drop-down list of a few types of snippet to offer. These are:
Amenities
Brands
Courses
Degree programs
Destinations
Featured hotels
Insurance coverage
Models
Neighborhoods
Service catalog
Shows
Styles
Types
You could create multiple structured snippets, though Google will only show one structured snippet per Ad.
Call extensions


Not to be confused with call-outs, these are instead a place to add your telephone number which will be displayed as part of the advert. On mobile devices, this can also display as a clickable button for people to call you without having to type in your phone number.
In addition to using your regular number, you can also choose to use a Google forwarding number (free of charge). I'd recommend this option as you'll receive calls as normal but it also allows you to track calls as conversions (if over xx seconds etc).
Message extensions (New – Oct '16)
If your customers need a quick response without the hassle of filling out an enquiry form on your website, the message extension in AdWords is a recently introduced extension which aims to fill the gap.
As with all of these extensions, there's no additional cost; you'll just pay for a click if someone sends you a message.
Location extensions

If you've got a bricks-and-mortar shop, location extensions allow you to show the nearest location to your users.
Affiliate location extensions (New – Oct '16)
Similar to the regular location extension, however these are better for bigger brands which are not only stocked directly from the manufacturer, but also available in supermarkets etc.
Let's say Argos stocked your product; in the affiliate locations section, you'd add the location of Argos' stores (since potential customers can pick up your product from any of those locations).
Price extensions (New – July '16)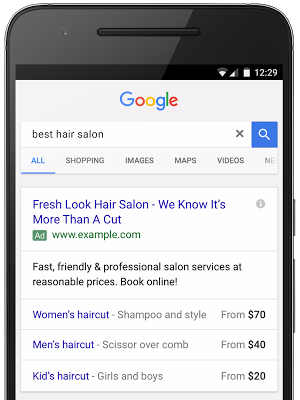 Let's say you're a barber shop. Here you'd have the opportunity to add prices for your most popular hair cuts.
Admittedly, I haven't actually seen any price extensions here in the UK, so the example above is from Google's blog post back in July.
App extensions
The app extension allows you to promote your app.
These are only relevant if you have an app.
Review extensions
If you've had a great testimonial on an influential news website, review extensions give you a way to paste in a snippet along with the URL of the site it appears on, and it'll appear as a quote in your Ad.
Seller rating extensions

These are automatically pulled in from a selection of trusted review providers. You generally need at least 150 reviews (in a 12-month period) on a website such as Trustpilot, and you'll start to see the orange star ratings appear within your AdWords Ads.
Automated dynamic snippet extensions

These are automatically created 'dynamic' snippets which appear in your Ads. In terms of control, we only have the ability to disable these.
I've mostly found these can reduce the professionalism of Ads, so usually disable them.
Further reading:
For further reading on the benefits of using ad extensions, take a read of the Google article here.