I was in London recently for a conference (see my other blog posts) and was looking for somewhere to eat at. Being close to Oxford Circus tube station, Ponti's was a convenient place for me to have an evening meal before going back to my hotel near King's Cross.
I initially reserved a table for 7:30pm, but ended up being tied up elsewhere so had to call them and ask to push it back by an hour. Although they were busy that evening and I had called at last minute, they handled it with no problems. In case you're wondering, I went there on Monday 8th July.
I was surprised at how close it actually was to the Oxford Circus tube station – literally a minute's walk down a side road.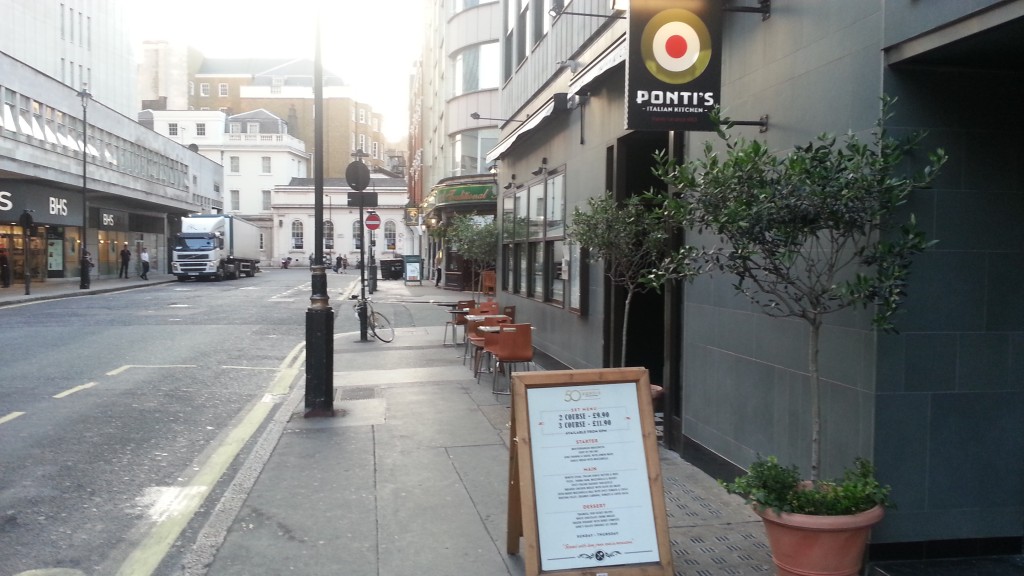 When I went in to the restaurant, I was greeted by a waiter and after checking my reservation I was shown to my table.
Time to order a drink! As it had been a hot day, I decided to go for a freshly squeezed orange juice, which tasted really nice! It was tangy (but not bitter!), and the bits left in which made it taste authentic. There were a few ice cubes in the glass too (and a slice of orange!) which was nice as it was a hot day.
After looking through their menu (which can be found here: http://www.pontis.co.uk/menus/PIK_main_0413.pdf), I decided to order the "Cotoletta Alla Milanese", which was a pan-fried breaded chicken breast served with mashed potato.
I was pleased with the speed of service which I thought was just right. Not too fast that you would think it had already been cooked and waiting, but not too long that you got bored waiting.
When it arrived, I was very hungry from a long day spent travelling so I tucked in right away! The chicken was moist, and you could tell that it has been fried with sage butter which was nice and meant the meat didn't dry up.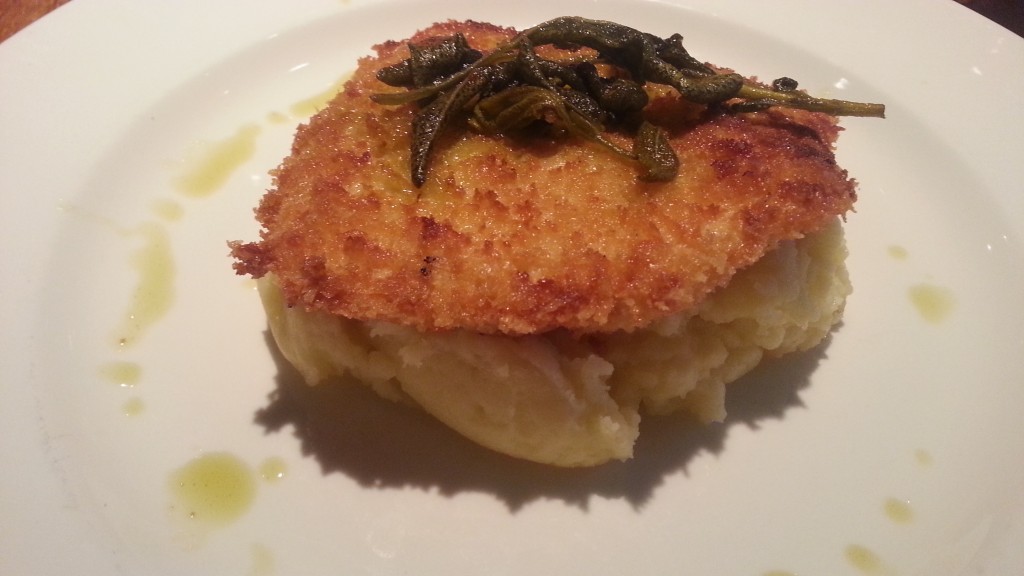 The photo doesn't really give it credit – it was really filling!
After all that, I was ready to leave, and didn't actually realise that they did desserts until I was given their special desserts menu after my plate had been taken away.
After being given the menu, the waiter recommended the cheesecake or brownie, but said that if I felt full, the Panna Cotta would be a good option. As I was still fairly full from the main, I decided to go for the latter. I appreciated the recommendation as I can never decide what to have (especially when it comes to desserts!).
It certainly stood up to its description of being creamy. It was a fairly light dessert, but had a really nice milky taste which went well with the crumble and berry compote. Not incredibly filling, but very creamy/milky and possibly even refreshing to some degree!
After finishing my dessert, I was asked if wanted tea or coffee, but as I wanted to get back to my hotel to unpack my things I chose not to.
Overall, the restaurant has a great atmosphere, with music playing in the background at a low volume which is nice. The staff were very friendly and gave "service with a smile" although it was fairly busy and they were always on their feet. I think at least some of the staff were Italian and I was called "signor" a few times. All of this made it feel fairly authentic Italian.
I only wish that staff would be like this at all of the places I eat at. There is always usually that one member of staff that looks stressed, unmotivated and ends up passing on that negativity to the customer. At this place, the staff always seemed positive (even though it was busy) and seemed to enjoy what they were doing.
If I had the chance to visit again, I'd definitely go for one of their pizzas which sound really nice!
If you're not that hungry, I imagine it would also be a great place to go out for drinks with a few friends in the evening as the table next to me had just come for drinks.
If you'd like to experience Ponti's Italian Kitchen for yourself, they can be found at 5-7 John Princes Street, Oxford Circus, London, W1G 0JN, and 54 Duke Street, London, W1K 6JN.