Itsu is a retail store and restaurant chain with stores across London and two flagship restaurants.
I visited one of their retail stores near Oxford Circus tube station.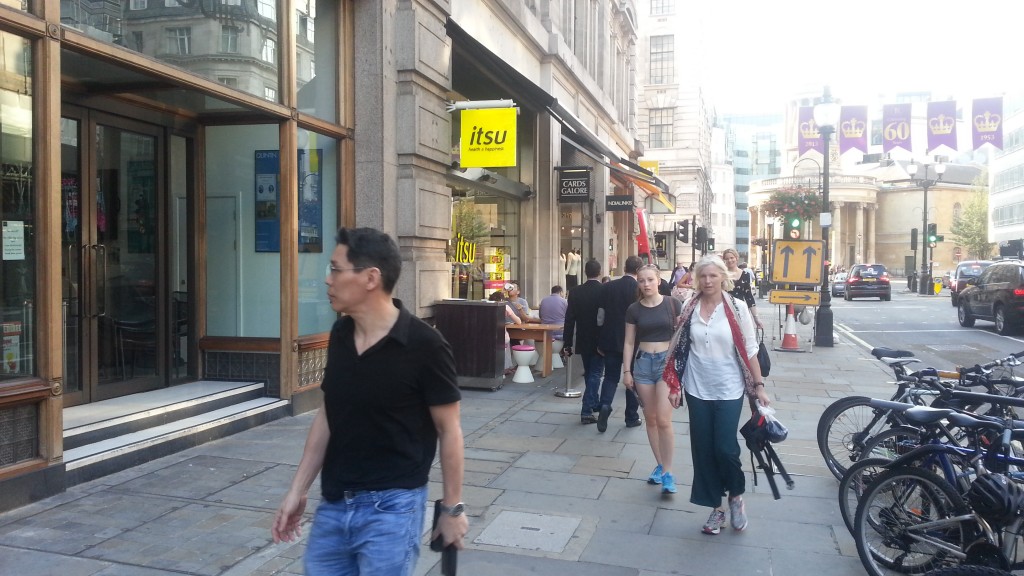 When you get inside, there is seating on the left and on the right a row of open refrigerated cabinets with an array of boxed foods. The food boxes are separated into different 'categories' so you can choose what you would like.
Don't be confused though. Whilst the food is pre-boxed, it doesn't come on a lorry from a factory! They prepare food fresh on an hourly basis, and whilst I was there they were constantly re-stocking the shelves with fresh food.
This is important as with sushi being raw fish it needs to be eaten as soon as possible after being prepared.
As well as the cold boxed food, they also do hot pots of rice or noodles with chicken or vegetables, called 'Potsu'.
Chargrilled Chicken & Noodle Potsu
Having seen this on a big sign up behind the counter, I thought that I would try this "potsu".
I imagine you could compare it to a chicken stew, but with vegetables, noodles and broth. The vegetables were the type you would get in a stir fry which was nice.
I was expecting the noodles to be a bit smaller, but I didn't mind the larger noodles. There was a sort of chicken "broth" which added to the flavour.
Salmon teriyaki on a bed
I really enjoyed eating this and it was an interesting combination of flavours. Cooked salmon with green beans, on a bed of rice infused with a teriyaki sauce. There was also a pot of soy sauce but I didn't use it.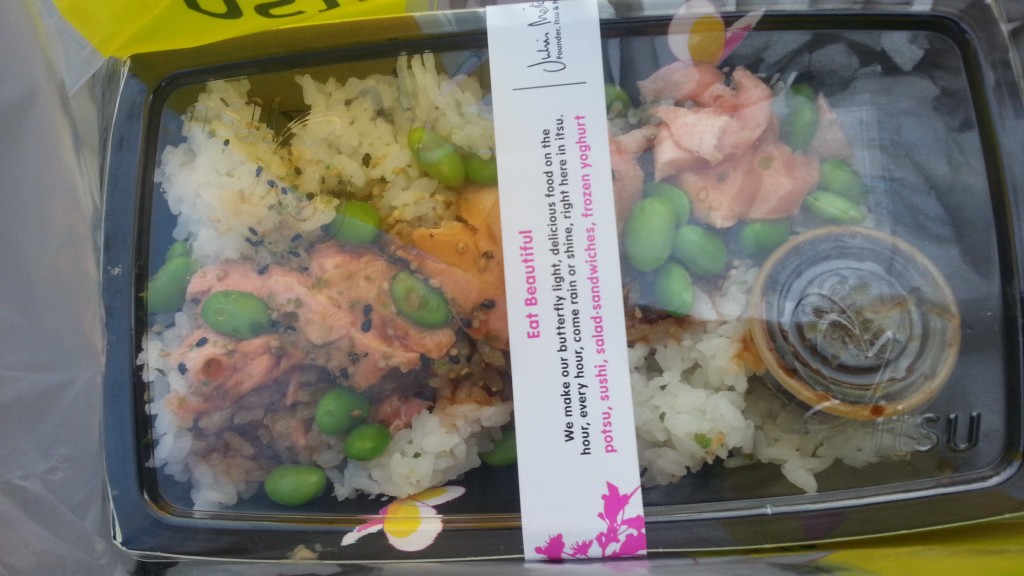 Salmon sushi & salmon and avocado maki rolls
I have to admit, I'd never tried sushi before so didn't really know what to expect. Although it was quite a different flavour to what I am used to, I liked it however I don't think I could manage a full sized box of sushi.
Itsu "vitsu water" (superberry)
This was an interesting drink. Unlike some drinks where you can almost taste the sugar, this drink tasted light. Although the main ingredient is water, it isn't one of those "flavoured water" drinks with a weak hint of flavour and instead it was fairly strong. I imagine this drink would be good for a "detox" diet as it is mainly water.
Once you have paid for your food at the counter, you can either sit down to eat it there and then (there is seating inside and outside the store), or alternatively you can have it to take-away.